When looking for office space, it's essential to consider a city's growth along with its quality of life, cost of living, and upside. A recent survey just named the Top 10 Most Dynamic Cities in the USA.
Nationally, Tampa came in at #15 in Mid-Size Cities, #15 in Rise in Movers from Outside the City and #31 Overall. It also ranked 10th in Rise in Job Opportunities. Pretty good!
The rankings show that Tampa represents an excellent opportunity for commercial property investors to invest and reposition their portfolios during this population and development growth period that still holds considerable upside, a high quality of live, and low cost of living.
Here's a look at the rest of the top cities.
📌 #1 San Francisco, CA San Franciscans had the second-highest increase in median income in the country.
📌 #2 Seattle, WA This city recorded the 6th-largest increase in population in the U.S.
📌 #3 Denver, CO The number of registered patents in this city rose by 42% in just five years.
📌 #4 Aurora, CO Aurora's 54% drop in its unemployment rate is the 15th-largest in the country.
📌 #5 Grand Prairie, TX The number of people below the poverty level decreased by 34%, the 13th-largest drop in the U.S.
📌 #6 Oakland, CA Median income in Oakland increased by 30%, the 8th-largest increase in the country.
📌 #7 Fort Worth, TX A 17% spike in the number of companies secured the 5th spot for this city.
📌 #8 San Jose, CA San Jose had the highest GDP growth in the country.
📌 #9 Atlanta, GA Atlanta had the 6th-largest job growth in the country.
📌 #10 Miami, FL Education is one of Miami's strong points: the city boasts the 5th-largest growth in the share of people with a college degree or higher, and the 3rd-largest increase in school enrollments.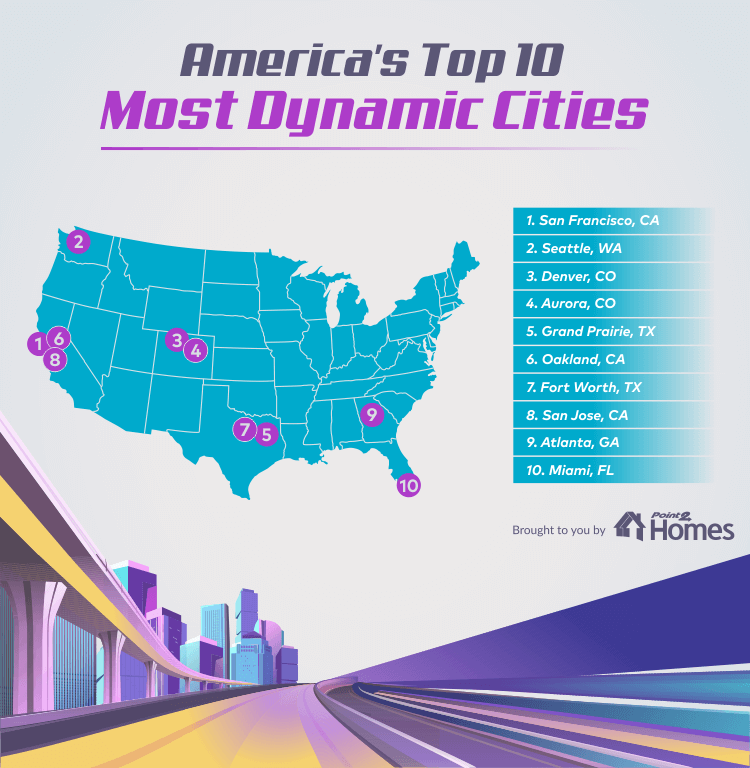 Social Share